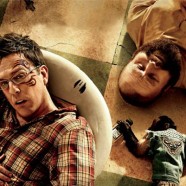 Mar

11
Tags
Related Posts
Share This
Hanging Over The Line
Do you remember your last hangover?
People often describe me as lucky when it comes to hangovers. From memory, I've had 3 in my life. No, I'm not against drinking – far from it. I've just very rarely got up the next morning and thought 'I don't feel brilliant'.
20th of July 2013.
That was the day of my last hangover. I remember it for two reasons; 1) It was the morning after my office Summer Ball. Which was massive. and 2) Somehow I was running a new parkrun – Clair parkrun's inaugural event in Haywards Heath.
Where to start? Well, I could start at lunchtime on the Friday where I for some reason partook in something the kids call 'prinking'. Pre-drinking. The act of having a few drinks to get your self ready for going out for a few drinks. It seemed sensible as the sun was out.
I could start as I left the Summer Ball and arrived at the train station, narrowly missing my last train home. By a little over 2 hours.
Maybe instead I should start when my alarm went off at 7:30am, 4 hours after arriving home, so I could go to parkrun. Afterall, that was the moment when I realised I had a hang over. It took a while to realise it, as I wasn't expecting to have one. Or the moment 20 minute later where I made it downstairs and went to sleep on the sofa.
No. I shall start it at 8:58am. The point at which I crawled on all fours to the start line of Clair parkrun, still clutching the bottle of water I'd promised my wife I'd drink before going to bed. I found Gem and Martin – my fellow parkrun tourists, and was just in time to hear Danny Norman's attendance being announced to the sound of someone coughing in the distance.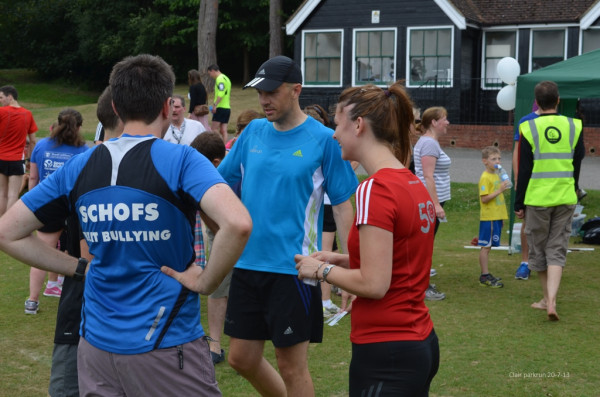 There was one saving grace. Gem and Martin had also been at the same party the night before, and from the looks of it, Gem was in much the same shape as I was. So that settled it. We weren't going to get PBs. This was a day for jogging.
When you're not feeling great, two or three lap runs always feel longer because each time you go round you realise you've got to do it all again, still feeling crap. Clair wasn't a two or three lapper. It wasn't a even a four lapper… it was 4 and a half laps!
The run started and we were off. We weren't fast, but we were headed in the right direction, which meant every step was one closer to the finish. It was at this point I realised I wasn't doing myself any favours. For example, I hadn't actually put on my running shorts, I'd put on my cycling, fully padded baggy shorts. Shorts which contained my mobile, keys, wallet, tyre leavers and a spare inner tube.
As we rounded the cricket pitch, we could see 3 people who were in worse shape than I was. They were fast asleep, presumably having been there from the night before, and they didn't budge all the time were were there.
After 2 very gentle (but very undulating) laps, we were lapped by the lead runner who shouted "Out the way slow coaches". Not very 'parkrun spirit' you may think? We might have too if we didn't know him – it was Martin (Gemma's boyfriend) and he wasn't doing half bad!
We, on the other hand, were having a result of our own. At no point had we had to dive behind the bushes for a tactical chunder, and better still, we were half way into the 5k.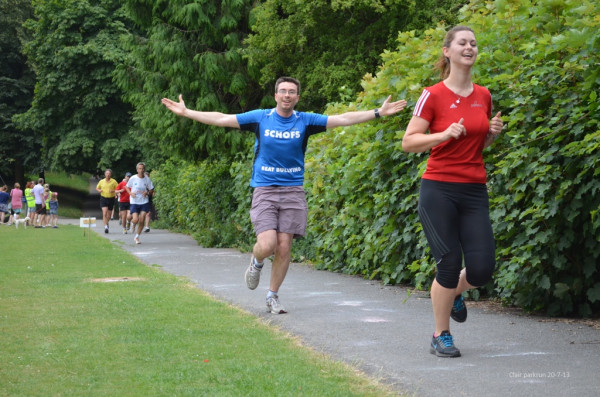 Clair parkrun is definitely one of the most undulating of the 30+ different parkruns I've tried. However, after extensive testing, I can confirm that the down hills are definitely easier and more fun than the up hills.
As we neared the finish, there was one thing we were both agreed on. The fact that we'd made it all the way around was a miracle. But it was more than that. We both realised our hangovers had completely gone. To celebrate this, we decided to cross the finish line together, and by together, I mean literally together. Given Gem's boyfriend was there, I felt holding hands would have been inappropriate, so instead, Gem mounted me.