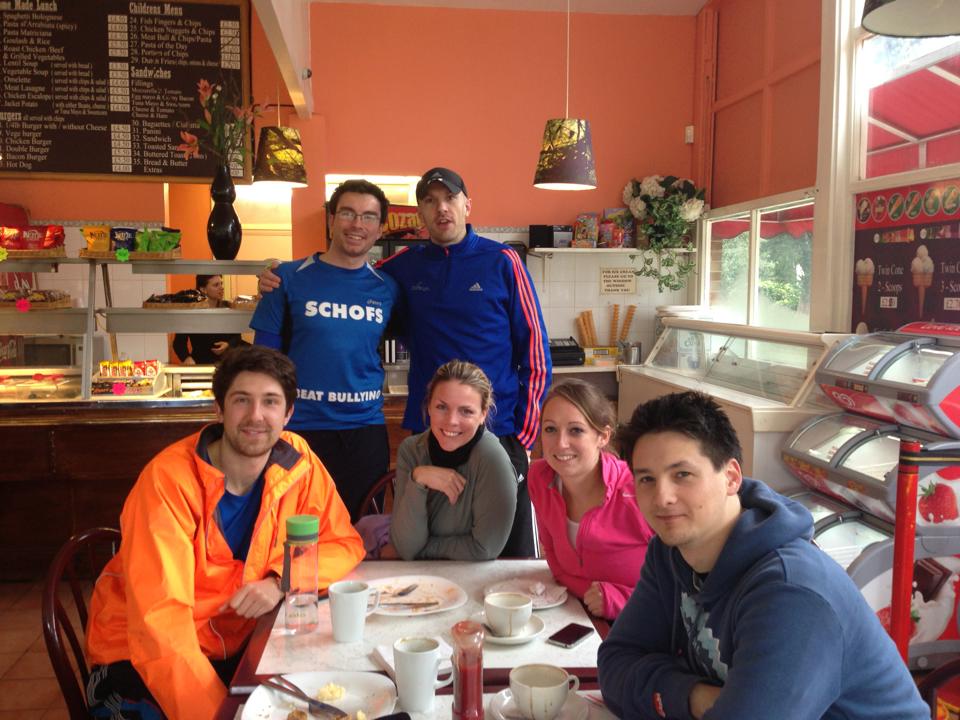 Feb

24
Tags
Related Posts
Share This
Pacing a PB
In between the cross training and the physio trying to massage the muscle out of my leg, I still need my parkrun fix. I'm not trying to get a good time at the moment, but if there's one thing I've learnt in the last couple of weeks, it's that I can quite happily go to a parkrun, have a pootle, and feel great. I think that's what separates a run from a race.
For a pretty brisk 0°C Saturday morning, I was impressed that 5 other friends from work appeared at the start line of Gunnersbury parkrun. One of those was Steph who ran her first parkrun about a month ago in 34:40 and I'd suggested unofficially pacing her round to about 34 minutes, which would also give me a chance to see how my shins would react to a bit more pace than last week's tail running.
Birthday funding from generous family members had also resulted in a new Garmin GPS watch, so this seemed like a great time to give it a try. I set it to pace to 10:56 mins per mile which, if we kept to, should see us across the line in 34 minutes. I always start too fast in runs, and with Gunnersbury starting on a downhill, it's easy to get carried away with the fast runners and then be knackered by the time you go back uphill. We kept to the pace perfectly for the first mile and all felt good.
Between the second and third mile, we were slowing down a little bit to catch breath, but still pushing through. My watch said we were about 30 seconds behind where we needed to be if we were to beat 34 minutes. I was trying to talk to Steph about ways of running efficiently to save energy but still make good time, things like leaning forward, keeping the head up etc… at which point I then realised I just sounded like a dick!
For the third mile we were back up to the target pace, but still had 30 seconds to make up. 500 metres from the end and we could see the finish line. We started to pick up the pace a little further as we rounded the corner to the final up hill  200 metre stretch… at which point the magic words of a running friend were ringing in my ears; "If you're not puking as you cross the finish line, you haven't really given it your all". So it was clear. If Steph wasn't puking, I wasn't being a good friend.
We both dug in for a sprint to the finish line. I wasn't looking at my watch any more, just at the finish. I was shouting by this point, rapidly escalating my dick status to 'massive nob', but not caring. As we crossed the line the crowds went wild. I stopped the watch and dared a glance at the time. It was good. Properly good. Amazing in fact. 33:55. F**king A.
While Steph headed home to bask in the glory of her new PB, the rest of us headed to the cafe for some serious Bacon Sarnie action, where we also met up with Danny Norman who's clearly become my latest stalker. He'd narrowly beaten us, completing the course in an impressive 16:51, but he knew who the real winners were.
In fact, parkrun day was PB-tastic with every one of us getting a PB! (if you count mine as a comeback PB since my injury). Quite possibly one of my favourite parkruns yet.