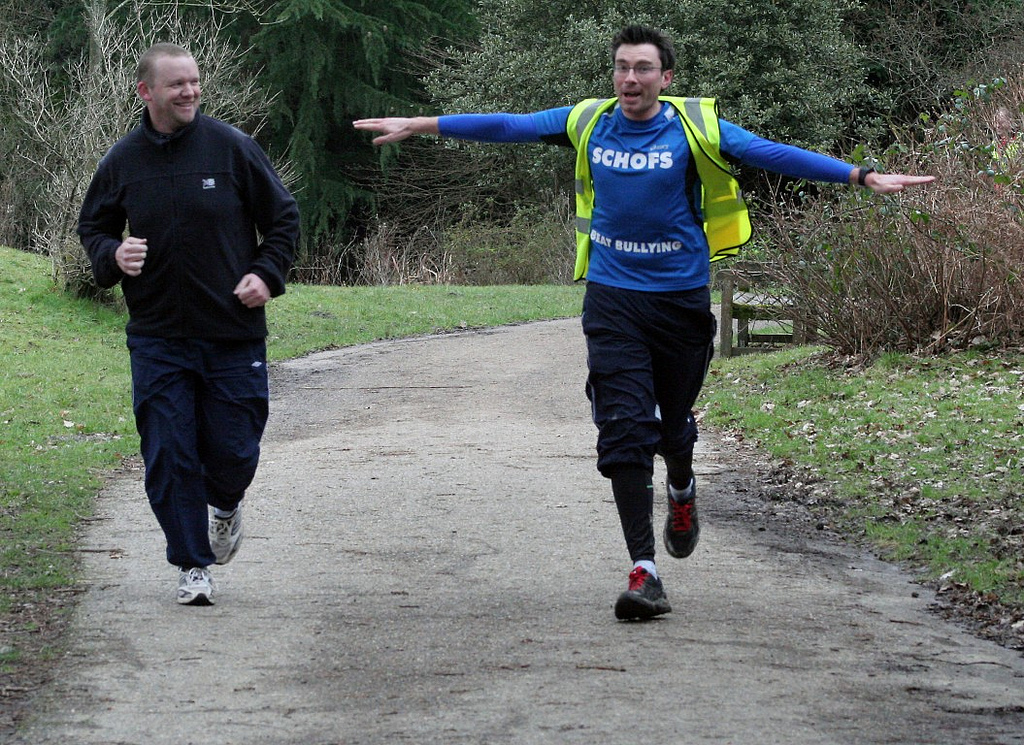 Feb

17
Tags
Related Posts
Share This
The Ultimate PB
On Friday, the Sports Physio said that, in between him pummelling my shin muscles back into shape, I needed active rest. This basically means, cycling, cross training, swimming…. as much exercise as possible without running.
Hmmm… without running. He didn't specifically rule out parkrunning though did he? No – I certainly didn't hear that. I mean, they're completely different words.
I had two things in mind. One, I've set myself pretty challenging targets to complete 40 parkruns this year which won't be helped by injury, and Two, this might be an opportunity to give something back to the community that's welcomed me and 275,000 others by volunteering.
The problem is, those two things always seem to be in conflict. If I want to parkrun and even get my foot in the door of the 50 club, surely every week spent volunteering is a week's delay to my target? But then I got thinking… I get the credit for completing the parkrun course, not for getting an amazing time. So what if I do a volunteer role that allows me to complete the course – Tail running for example? A quick email to my local parkrun director confirmed it – If I complete the course, volunteering or not, I get another parkrun under my belt. So that settled it – I put my name down to volunteer as Tail Runner and somehow immediately felt good about it.
I was at Tilgate Park at 8:15, far earlier than requested, but wanting to make the most of the opportunity to help. Annoyingly however, everyone at Tilgate seems far too organised, and even by that time the signs were up, the finishing funnel was in place, the start line was marked out… so my key responsibility was to chat with the other volunteers and await the masses. This I could do. In fact, there were two tail runners today, so I'd have company on the way round.
It wasn't long before people had arrived, warming up with the gentlest of stretches.
I made my way down to the start line as usual… and then remembered that the Tail Runner job was to be last, not first. So off I pootled to the back of the pack. At 9am the fog horn sounded to get started and with the full force of a G-Wizz electric car, my fellow Tail Runner and I leant forward into a steady walk.
As we neared the first corner, we had our first challenge – a lady who had a previously hurty ankle decided that based on the first 100 yards, this was not the day to parkrun. She decided to turn back to the start and have a cup of tea. As she walked back, our concern for her was dwarfed by one thought. The rule of Tail Runners were that there should be no runners behind us – we'd already failed in our one task!
Trying to brush this one under the carpet, we pressed on and broke into a jog to catch up with the next runner, and our companion for the rest of the course. Quite content to be at the back, he was parkrunning with his daughter who had sailed off towards the front, and he was enjoying the course for some exercise on a nice Spring morning.
We jogged, we walked, we chatted and we were lapped. And it was all good. As the fast runners shot passed us we gave them a cheer, and as we neared the end I looked at my watch and thought "actually, for a pootle in the park we're making pretty good time". Our companion had previously had a time of 53 minutes, and we were coming into the last half kilometre at around the 40 minute mark.
Unsure if I was overstepping the bounds of my role, I ventured the suggestion that we could have a sprint finish, consisting of a nice jog to the end to really smash his previous time. He was game, and picked up the pace. We rounded the corner of the lake and along the path to the finishing funnel, crossing the line in 43:31 to rapturous applause from the waiting crowds.
It was fantastic being able to volunteer, and to help the team put on an event for 150 people… but the best part by far was the final push to the finish. I was never going to get a PB, so helping someone else make the most of their run was brilliant. And to top it off, I still get the credit towards the 50 club.
Epic Success.