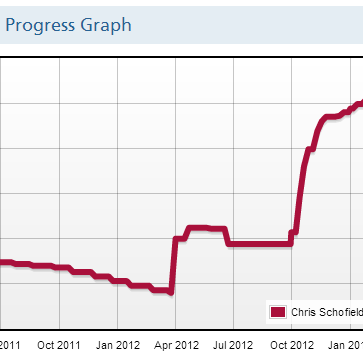 Feb

04
Tags
Related Posts
Share This
Looking Up
The training is well underway – I'm 4 weeks into my training plan, with just 12 weeks to go until the London Marathon. And the good news is… it seems things are looking up.
Desperate to avoid a repeat of last year's Marathon, I'm clutching at as many straws as I can find to understand how best to prepare myself. This includes:
Sorting out my pacing – I'm a bloke, and that means I start too fast. So now I'm trying to take it easy at the start and pick up the pace if I can later on. I'll get my medal for finishing the last 6 miles, not the first 6. I'm also trying to do training runs at varied paces so I can get my body used to bursts of pace when needed and how long I can sustain it.
Leaning forward. Doesn't sound like much, but I reckon every time I take a stride, I hit the ground with my heal first, which means I'm applying the brakes. If I can land more in the middle of my foot with my foot directly under my knee, logic suggests I'll be more efficient as I won't be driving with the handbrake slightly on.
Building up my core strength by doing circuits and other cross training and hill training – even thought the Marathon's on the flat. I think my cramp last time was caused by a mixture of lack of core strength and inefficient running, so if I can make improvements in these areas, it's got to help. Hasn't it?
Well… I'm 4 weeks in… so has that all been unnecessary effort? Nope – because I got a new parkrun PB of 23:30 on Saturday! Since I started my training at the start of January I've now knocked 50 seconds off my previous parkrun Personal Best, and this week was on a hilly, muddy course, so it really looks like I might actually be improving.
And it's not just me that thinks that? Runbritainrankings keeps a track of all official runs and works out handicaps off the back of it. Look how my handicap has improved. Note: I started parkrunning in October.