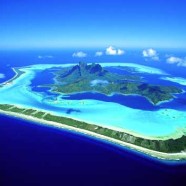 Jan

24
Tags
Related Posts
Share This
Bora Bora Saga Continues
The morning after I used my AA miles to book Hong Kong – Tokyo – Tahiti – Tokyo – Hong Kong, I received a 1 liner email from AA saying "Please contact AA regarding a problem with your booking".
I should point out that at this point that I had already booked my BA flights from London to Hong Kong and from Tokyo back to London.
I rang up the Irish call centre (often quite a bit better than the US ones, especially as it means I don't have to wait the extra 5 hours for the Americans to wake up!). It turns out that the routing that they offered me (via Tokyo) on a number of occassions wasn't actually valid for miles redemptions.
Instead, AA offered me flights via Sydney… but only economy was available. They also offered going via Brisbane and Auckland (!) but again, two of these flights would be in economy.
After 3 days of trying to get this sorted, I suggested a compromise of using AA miles to fly only Tokyo – Tahiti – Tokyo (in Business), which they accepted. To book this from the outset would have been an extra 40,000 AA miles (a total of 180,000 miles), but fortunately AA are covering the difference. All that's left for me to do is change my BA flights to be London – Tokyo – London (at a cost of ¬£60 out of my own pocket), and forget all about Hong Kong…
It'll be a shame to miss out China, but it does give us an extra 3 nights in Tokyo, which will be nice.
This trip had better be good!!!