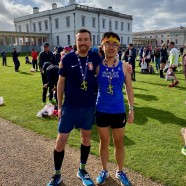 Mar

01
Tags
Related Posts
Share This
The Big Half 2020
Pre-race
There have previously been 2 runnings of the Vitality Big Half, and each time I've been very glad I've not been running it. In 2018 it was snowing, and in 2019 it was so windy that the other events in the Vitality festival (the Big Mile and the Little Half) were cancelled. Early March clearly isn't ideal weather-wise, and the run up to the 2020 running clearly wasn't an exception with a significant storm every weekend in the 3 weeks leading up to the event. However, I was tempted by the fact that I was offered a very cheap entry due to being a regular volunteer at my local parkrun which had been given a number of community entries. It was also 7 weeks prior to my next marathon, so ideal for the build up.
Back in September I ran Goodwood Half Marathon – my first half in 5 years which was part of my build up to Frankfurt Marathon. I had no idea what time I would run – I'd run 6 halves prior to Goodwood, and I'd had to walk in every one of them due to calf pain. Goodwood came as a shock when I was able to not only run the whole thing, but achieve a very respectable time of 95:50 – a whole 20 minutes off my previous PB. I'd run that based on feel rather than going for a certain pace.
Now that I know I can run the distance, I wanted to see what I could really achieve. I was feeling fit from the marathon training, I've been getting PB after PB at parkrun, so everything was looking promising.
I decided to aim to go sub-90, and by trying to run 6:40/mile (targeting around 87:30) it meant I would bank a little time for the inevitable slow down in the second half, and hopefully still allow me to sneak under the 90 minute mark. Luckily for me, a friend from Midnight Runners, Richard, was also running the Big Half, and offered to pace me – an offer to which I bit his hand off. Metaphorically.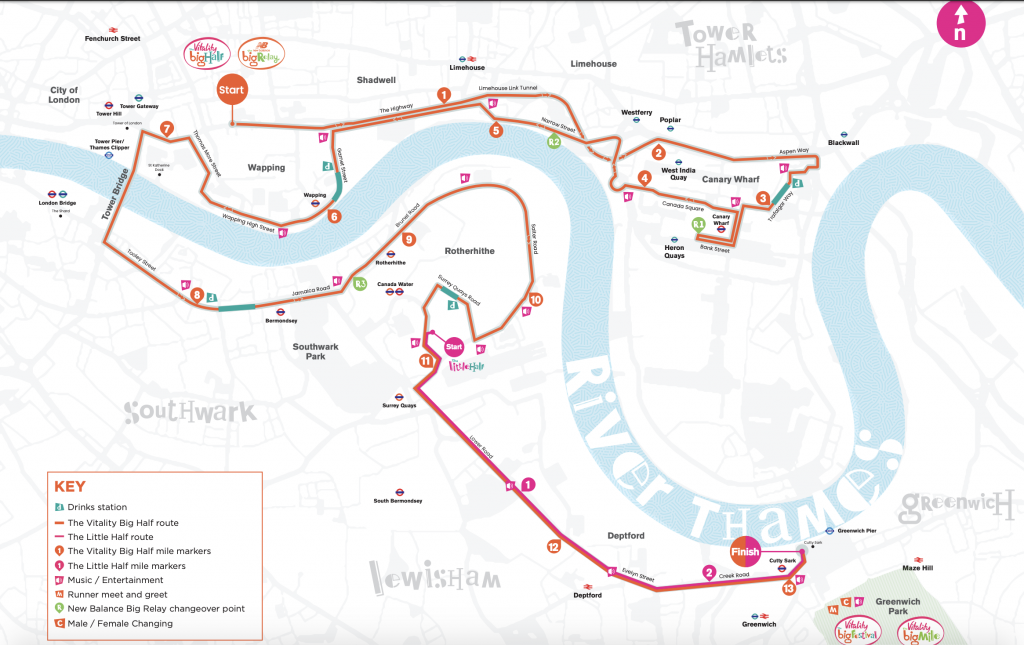 Race
Three weeks before race day we had Storm Ciara. Two weeks before race day we had Storm Dennis. In the week leading up to race day we had Storm Jorge. Race day, however, was stunning. At 9am it was due to be around 7 degrees, rising to 9 degrees by the end of the race, and not a cloud in the sky. It was ideal running conditions. There was a bit of a breeze, but nothing to be concerned about.
I met up with Richard, and we made our way through the motions to our starting pen. We were in Wave A which meant we were the first wave over the start line, although a last minute toilet stop meant we were at the back of the wave. Still – it only took about 2 minutes to cross the start line, which was much quicker than I was used to.
We were both pretty cold at the start, so it was good to get moving. We tried to quickly find our pace, though the first mile was pretty congested and we were having to balance the extra effort of dodging around slower runners with the need to ensure we didn't lose valuable minutes up front. We crossed the 1 Mile marker at 06:40 exactly.
The second mile may have been easier from a congestion point of view, but pacing it was near impossible. Very quickly you hit the Limehouse Link tunnel, which is where we'd spend the next 1.1 miles with zero GPS reception. I only know it was 1.1 miles due to this Wiki page – we tried to keep our same pace, but when we passed the 2 Mile marker in the tunnel, my watch had estimated we were 1.8 miles in (without GPS it was never going to be accurate), but more worryingly we'd only done 5 minutes since passing the 1 Mile marker. There was no way we'd run a 5 minute mile, so without GPS or reliable markers, we'd have to wait until the next mile marker to know what pace we were really doing. This was very early in the race to have no reference of what we were running. When I look back now at the route map, it shows the 2 mile marker after the tunnel exit – this knowledge of course doesn't easily help after the race had been run!
Around 3 miles into the race we hit Canary Wharf. Most of the Vitality Big Half is actually a significant chunk of the London Marathon in reverse, and if there's one thing that I remember from the London Marathon, it's that the GPS struggles with the tall buildings around. Today was no exception. It's just as well I had my own personal pacer to keep track!
Having a pace of 6:40/mile had one significant benefit – it meant that target pace was exactly 20 minutes for every 3 miles, so regardless of how far the GPS thought I'd been, I knew very easily each time I passed 3, 6, 9 and 12 miles whether I was on pace. I crossed the 3 mile marker at bang on 20 minutes. This was a huge relief as it meant that the hardest section to pace was out of the way.
There was a water station in the run up to mile 3, and it seemed like a good time to take a sip – the last thing I wanted was to be dehydrated for the second half, which would be tough enough as it was. This was however the best part of having a pacer – Richard (who was clearly very comfortable with the pace) headed to the water station, grabbed a bottle, took what he needed, and then passed the bottle to me. This was brilliant! No need to slow down among the scramble for bottles, I just waited for the bottle to come to me!
Other than passing the 5km timing mat, the next 3 miles were pretty unremarkable. I knew Chloë would be supporting in Wapping with a friend which was at 6 miles, and I just focussed on my pace until then. By Wapping I had warmed up quite a bit, and thought I'd take the opportunity of seeing Chloë to dispense of my gloves. I clocked her at the side of the road, and as I approached and they cheered, I tried very gently to pass her my gloves. What actually happened was I managed to hit her in the face with them. I felt awful! I shouted "Thank you I love you!", to which the guy next to her shook his head and said "No he doesn't".
I was wearing a flip belt with 2 gels and a couple of caffeine strips, so I felt like being glove-free was now a good time to break open the first gel, and gently took it in over the course of the next mile. When I hit 7 miles I was starting to feel tired. I was on pace, but it was no longer feeling quite so comfortable. I'd noticed that where previously I was running alongside Richard, I was now tucked in behind him. Still – I was now crossing Tower Bridge, and would soon be hitting my home turf of South East London.
We crossed the 8 mile marker at 53:39. I was 19 seconds behind the pace and I wasn't about to start feeling fresher. I knew I'd see Chloë again at Rotherhithe overground station which was just before mile 9, so I just focussed on my running form and kept on going. I noticed my level of chat with Richard had taken a dive too – which must have come as a relief! I decided I was probably a little on the warm side, so it was time to lose some more clothing. The hat had to go. The problem was that it was so saturated in sweat that I didn't want to pocket it, and I suspect a repeat of the glove throwing incident would have resulted in the locks being changed before I got home. I decided to run close to her and drop it on the floor in front of her while shouting "sorry – thank you – sorry!". It was better received! I also rolled down my arm compression sleeves to turn them into sweat bands rather than arm warmers.
It was a good mile before I intended to have my second gel, but it was time to break out the caffeine strips. These are small (around 2cm long) and dissolve on your tongue quickly to give a small caffeine hit. They're not the easiest packets to open though, and only one of them actually made it into my mouth. It was something though.
I crossed the 9 mile mark at 60:39, and the 10 mile mark at 67:19. While I was now 39 seconds behind the pace, at least the last mile had been spot on 6:40 again. It was time for a gel to see me through the last 3.1 miles. As we crossed the 10 mile marker, Richard and I predictably both said exactly the same thing. One parkrun to go.
As I powered on towards mile 11, I was starting to feel better. The previous mile had been on pace, and all I needed to do now was run just under a 23 minute parkrun to keep under the 90 minute mark, and if I kept anywhere close to my target pace I'd be well under that. I only ended up having half of the gel – by mile 11 the time was 74:09 – a 6:50 mile – only 10 seconds behind target. And let's just be clear, when I say target, I mean dream goal. It was an ambitious pace that I wanted to head out at with the expectation of slowing down. So knocking out a 6:50 mile at this point felt brilliant.
11 miles was also the last time I'd see Chloë before the end as I knew she'd be at Surrey Quays where we used to live. She's been so supportive of my running and I wanted her to see how strong I felt. I gave some big exaggerated waves to this effect when I saw her on the corner and hoped she knew how much I appreciated her support.
I turned the corner onto Lower Road – I was on the home straight now. I was feeling good, and I knew every step of the way between here and the finish line beside the Cutty Sark in Greenwich.
12 miles came in at 80:57 – that last mile was 6:47. If we even kept close to this pace we'd be laughing. I felt myself surging forward as I became more confident. Richard looked to me and told me to take it easy. I know he didn't want me to screw it up in the last mile, but I was absolutely loving this. Never did I dream I'd feel this good at the end of a 90 minute race. I tried to appease him by keeping the pace and running along side him.
We crossed the 20km timing mat at 83:47. That second 10km was 42:13. I remarked to Richard that this one was also faster than my 10km track PB. Considering how much time I felt I'd lost over the last few miles, this was a huge confidence boost. And there was only 1km to go!
I knew that an on-pace kilometre was 4:10, but as good as I felt, I knew I wasn't going quite this fast. A glance at my watch confirmed it. I wanted to hold the pace as best I could until the finishing straight and then cane it. I knew every step of the way to Greenwich – I'd driven or walked it hundreds of times, but the '500m to go' sign still caught me off guard.
In the marathon, when seeing the '800m to go sign', I still have to remind myself that it's not as short as it sounds – that's nearly a kilometre. The on seeing the 400m sign that I knew to really ramp up the pace. But this was 500m. Should I hold out a little longer?
Moments later I was turning the corner into Greenwich and I knew the Cutty Sark was close. Shit! Did I leave it too late? I put down the power. In the last 200 metres I was passing everyone. I had so much more in the tank. I knew sub-90 was already in the bag, but I wanted to beat it by as much as possible. When I think back to Frankfurt marathon just 4 months earlier, I crossed the finish line a broken man, struggling to even hold myself upright for the last 2km. This was the first time I was crossing a race finish line and feeling super-human.
I came powering across the line at 88:07! I didn't care that I could have gone sub-88 if I'd have pushed earlier. I cared that I'd destroyed the sub-90 target I'd thought ambitious by just shy of 2 minutes. I cared that since my last half marathon 5 months earlier I'd taken off nearly 8 minutes. I cared that I crossed the line and saw a load of my running club mates that I'd trained with for the last few months and gave them a hug.
I also cared that in the last 500m when I ramped up the pace I'd left Richard behind! Shit – I'd left my wingman! He crossed the line 21 seconds behind me in 88:28. When your friend offers to pace you to your first sub-90 and you both come in at 88 minutes, a sweaty hug was the least I could offer him at the finish line. He'd been like a metronome the whole way, never missing a beat. I can't begin to explain how grateful I was.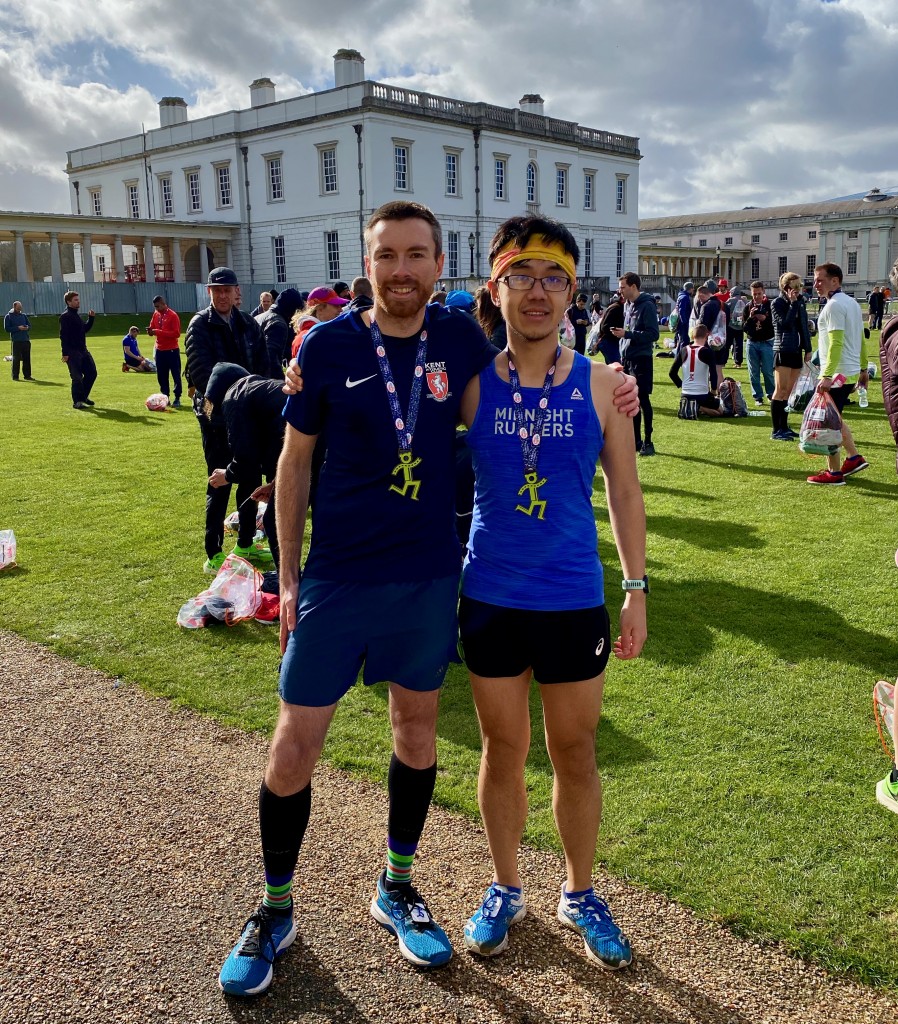 Post-Race
Immediately after the race we went down to a brewery in Deptford for a few well earned isotonic beers and pizza. It had been such a good race and so many of us had come away with PBs. Lots of the other runners were saying how great the support was from the crowds. It was then that I realised I hadn't actually noticed any of the crowds. I genuinely can't picture any of them except Chloë and her friend. I couldn't tell you if they'd been lining the streets or if there were only a couple of people here and there. I'd been so focussed on the running that I was in my own zone.
It wasn't long however before I started to turn my attention towards my next task – the Brighton Marathon – which was now 7 weeks away. I've been focussed on getting a sub-3:30 time, and so training for around 3:20, but should I be aiming for more like 3:15? It sounded crazy compared to my previous marathon times – a year ago my PB was 4:41!  And with just 7 weeks to go, I'd be tapering in 5 weeks, and is this really the time to start moving the goal posts?
I then went back to focussing on my pizza and beer, and left the race planning for another day.