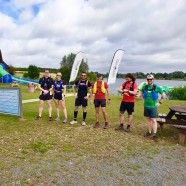 Aug

19
Tags
Related Posts
Share This
Pub Ultra
The pre-amble
While I've always generally liked the idea of longer distance running, I've never actually liked the reality of it. Primarily for 2 reasons – 1) anything over 12 miles and I'd get calf cramps, and 2) because of the calf cramps, I'd always be slower than everyone else, and so when I eventually do finish, everyone else has usually gone home.
Then I heard about a race that a friend, James Adams, was putting on – the Get To The Pub By 4 Ultra Marathon. The idea is simple, a 50k route over some lovely Bedfordshire countryside. Only instead of everyone starting at the same time, everyone finishes at the same time. Based on your expected time to complete 50km, you'd be given your own start time, with the idea that everyone finished at about 4. The winner would not be the person with the quickest time, but the person to cross the finish line first. This also meant that faster runners would always be playing catch up to the slower runners, and the last 5 or so miles is where the race really starts.
This sounded right up my street and, forgetting for a minute that I didn't like long distance running, I paid the princely sum of £15 and I was in. I also managed to rope my nephew Jason in to run it with me, as well as his girlfriend (Georgie), his sister (Cori), and my partner Chloë who all wanted treat it as an ultra hike rather than a run.
Since signing up, I discovered calf compression sleeves, and subsequently ran London Marathon without calf cramps, knocking an hour off my PB… this made running longer distances significantly more appealing, so I was really looking forward to this Ultra.
Training didn't go exactly to plan. I did two long runs during the preceding 3 months (21 miles and 19 miles), but I'd planned to do at least 5 long runs, 1 of which would be a marathon distance. Given that my recent London Marathon had been so successful, I was probably a little over-confident at my abilities, and so didn't let the lack of training bother me.
2 weeks before the race, James emailed us all with our start times. Mine was to be 10am, meaning a predicted duration of 6 hours. This was probably largely based on my early marathon times of around 5 hours, rather my surprise 3h50m in April. I pulled up a pacing calculator, and 6 hours for 50km would mean a steady pace of around 11:35/mile. This seemed pretty slow – my pace at London Marathon was a steady 8:46/mile, so I thought slowing down by nearly 3 minutes every mile was not likely, and arriving at the ultra finish line an hour before 4pm wouldn't exactly be in the spirit of the run. On the other hand, I was pretty knackered after the marathon, and 50km was an additional 8km, and had no idea how bad that would feel.
Then I noticed that there was a parkrun close to the race start. If I asked James to change my start time to 10:30am, with a predicted run time of 5h30m, that would mean I could do a gentle parkrun (e.g. 27-30 mins) as a warm up, and have plenty of time to get to the race start for the briefing at 10:20am. I felt that 5h30m was a good target to aim for, and if I finished the race 20 minutes early, nobody can accuse me of sandbagging too much.
Race day
As Jason had had a touch of the man-flu in the run-up to the race, he decided to join the rest of our crew who were walking the route. They were given a start time of 9am (7 hour target) which seemed very punchy, but they were not too bothered if they came in late. I dropped them off at the start, and then headed to Great Denham parkrun.
As I stood at the start of the parkrun, I realised that I was actually quite close to the front. My intention had been to run 27 minutes, but I didn't want to be one of those annoying people that starts at the very front and then gets in everyone's way. I was about to make my way backwards in the group, but then suddenly we started! So – new plan – run at a comfortable pace that was a bit faster than planned, and gently slow it down over the 5km.
As it turned out, the pace felt very comfortable, and I didn't feel like I was pushing myself. I'd very recently broken my all-time 5k target of 20 minutes, and so this felt much more leisurely. As I was half way through my second lap, I came across Chloë, Jason, Georgie and Cori coming the other way – it turns out the ultra course happened to include part of the parkrun course. I gave them a wave to try to show that I wasn't doing a silly fast time, and then shortly rounded the corner for the final straight, where I picked up the pace a little for the finish (I can never resist). I ended up finishing in 21st place with a time of 22:16. Bugger – I'd definitely be paying for that later.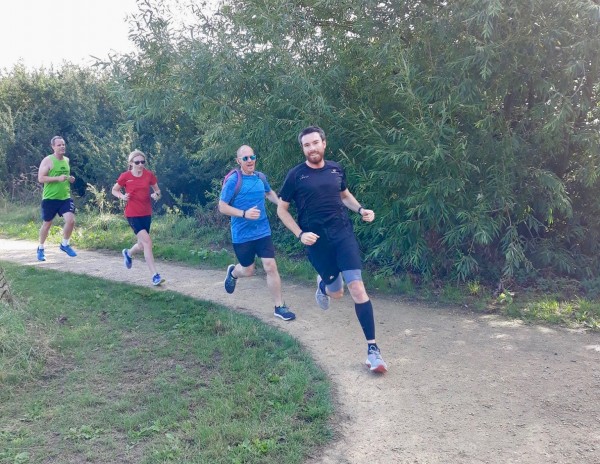 I headed back to Box End Park for the start of the ultra, just in time to see the 10am runners receiving their briefing. I was glad I'd pushed my start time back – the pressure of having to do a fast 5k and then race back to the start would not have been fun.
I tried to use the time before my briefing to relax a bit, as though 30 minutes would be enough time to recover completely from the parkrun, resetting my body to a completely rested state. I'd downloaded the course route to my Garmin watch, though the route was slightly different at one point, so I ignored all written directions on the information pack except for the slight change in a town called Sandy.
In what seemed like no time at all, James was giving us our briefing, explaining that we were pioneers (James actually used the term 'guinea pigs') of Handicap Ultra races. I was starting with 5 others, all of us aiming for 5h30m to finish at 4pm.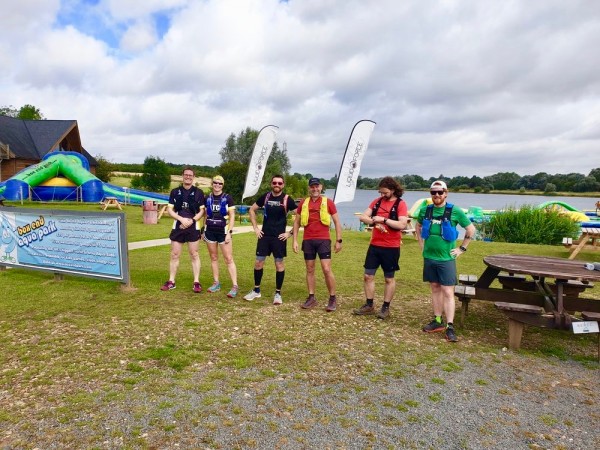 At dead on 10:30am, we started. I'd been chatting to a guy called John on the start line, and we continued that chat as we set off, which immediately highlighted one of the key differences between an ultra marathon and shorter races. In every race I've done previously, from 1 mile up to a marathon, your energy is focussed on doing your own run as best you can to get your best time. With ultras, it's more about going far, and less about going fast. And the best way to go far is with running buddies.
The race had 3 checkpoints at around 11.5 miles, 19 miles, and 26.5 miles. I'd also noticed from James' test run of the course on Strava that it was well over 50km, and that was even before adding an extra mile in Sandy.
John and I ran together to the first checkpoint – our pace was quicker than I'd intended – around 9 minute miles as opposed to the 10 minute miles I was planning on. It felt very comfortable though, and was a smidge slower than my marathon pace, so I went with it. Given there would be stops at checkpoints, as well as the unknown of an additional 10km further than I'd ever run before, getting ahead of the game seemed sensible. Running with John was also incredibly useful – it was the part of the course which involved getting through the back streets and paths into Bedford and then onto the main trails – John had taken this route many times as this was his home town, and so I didn't even have to think about the route. This no doubt saved me many minutes of checking the route and making sure I didn't go wrong – instead we just jogged and chatted.
Around 8 miles in we could see in front of us a couple of runners who'd set off 15 minutes before us. We caught up with them at the base of 'the hill' – the only hill on the course which had seemed quite daunting on the elevation profile, but wasn't as bad as I'd imagined. John slowed down to chat and run with the other runners, and I was feeling strong so pushed on ahead. I'd also spied 2 others from the 10:15am group ahead so wanted to see if I could catch up with them. My logic here was that if I could keep pace with them, I'd maintain a 15 minute lead on my planned timings.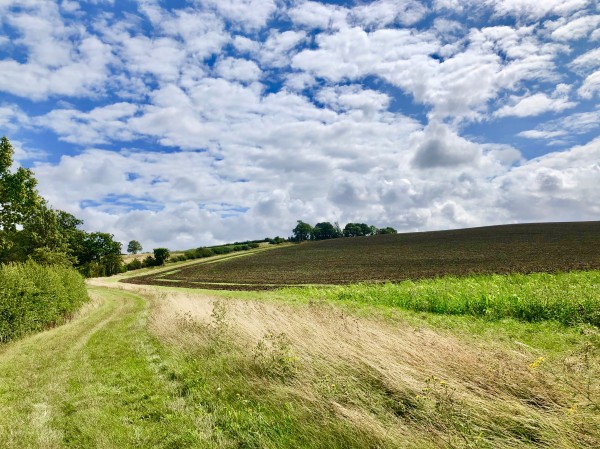 By the time I got to the top of the hill though, they were comfortably off in the distance. Over the course of the next mile I kept them in my sights, and caught up with them at the first checkpoint. I got chatting with them here, and after refilling our water bladders, the three of us left together towards the next checkpoint a little over 7 miles away. I chatted with my new runnings pals Helen and Graeme the whole way, and after a short while John caught us up and the four of us ran for a while before he pushed on ahead of us.
About 17 miles in I felt I was starting to tire a bit. Had I been running on my own, I probably wouldn't have noticed, but I realised I was now just trying to hang on to Graeme and Helen until the next check point. They seemed to be very relaxed at this pace and distance, and both of them had a good few ultras under their belt. They were however very supportive in getting me there. During this stretch we passed a few more runners, and one other runner (who had started after us) passed us looking very strong.
We eventually hit the second checkpoint after about 3 hours. My average pace by this point was around 9:40/mile, so while I'd slowed down, I was still ahead of my target pace. I had a quick look at the checkpoint's arrival/departure sheet to see how far ahead Chloë and the team were, and it showed they hadn't arrived yet. This got me worried – I definitely hadn't seen them, so all I could think was that they'd gone wrong somewhere. A quick phone call to Chloë solved the mystery – they were a couple of miles behind, but had decided to hide behind a bush when I passed. I can only assume they didn't want me to be distracted by the cans of G&T they were consuming as they went round!
I downed as many slices of water melon as I could, refilled my bladder, and Helen, Graeme, John and I headed off together. We were now in Sandy, and this was the section which I'd studied in the instructions as it was different from the GPS route on our watches. Helen and Graeme pushed on ahead a little and I held back to avoid burning myself out trying to keep up. When they took a wrong turn, I caught up just enough to let them know, and then headed back on the correct course along a 6 mile cycle path to the final checkpoint. It was pretty much a straight line, so for the next 20 minutes I watched Graeme and Helen heading off into the distance, and I kept a few minutes ahead of John.
This stretch for me was the toughest by far. I was really tiring, and I could feel my calves twitching a little, which was an indicator of impending cramp. By 23 miles, I realised that with the added parkrun at the start I'd done a full marathon, looking at my watch I still had nearly 10 miles to go. Whenever I felt the twinges, I walked for a minute or two, and then gently picked up the jogging again. I averaged around 11 minute miles along here, and I could see my predicted finish time edging later and later on my watch. I caught up with another runner, Richard, and walked with him for a short distance before pushing on. John caught up with me during one of my walks, and we both stopped to stretch and chat, before starting on again to the final check point which was now in sight.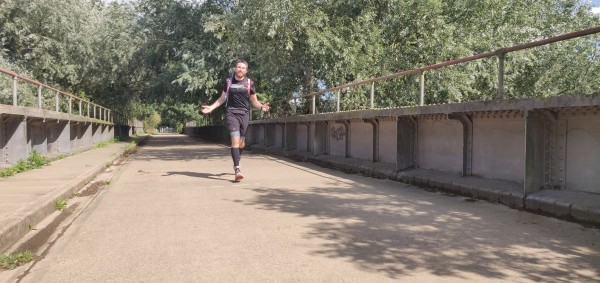 Though my water was now low again, I knew there was only 10km to go, which mentally was much more manageable. I drank a few cups of generic-ribena-substitue, but didn't refill my bladder – I wanted to be as light as possible, and knew that I could make the final slog without anything additional. This became quite a busy checkpoint as number of other runners, including John, arrived while I was there. It was now 3:02pm. I knew I could run a 10km in 1 hour easily, but not with nearly 30 miles in my legs. It was clear a 4pm finish was now no longer likely, but I was determined to focus on this last stretch and do what my body would allow, only stopping to walk if I absolutely had to.
As it turned out, I didn't have to walk. I felt twinges in my calves, but I took them to be my muscles having a bit of a whinge rather than giving credible threats of going on strike. 4 miles from the end I caught up with the runner who had sailed passed us what seemed like an age ago between the first 2 checkpoints. He was now walking as he was suffering pretty badly from cramp. I made some unnecessary sympathetic sounds, and kept on going. I passed quite a few other people who had started before me, and each time I did, I was reminded that other faster runners would be hot on my tail. I didn't want to look back because I didn't want to feel I had to push harder than I could, though I just assumed there was always someone there.
It wasn't long before I was back on the parkrun course from the morning, and that's where I knew I was on the home stretch. Only 2 miles to go, and most of it I could visualise.
As I came out of the back paths onto the main road that would take me back to Box End Park and the finish line, I caught sight of another runner in the distance. I picked up the pace for the final half mile, but I knew I'd only catch her if she stopped to walk. She didn't. As I followed her through the park to the finish, lots of the public who were there cheered us on. I ran over the bridge to the finish, and crossed the line at 4:01pm.
4:01pm. The race was entitled 'Get to the pub by 4'. After a five and a half hour journey, I was late by a minute. Still, I was very grateful that James and the rest of the organisers waited around that extra minute to celebrate my arrival.
Seconds later, Graeme and Helen arrived. Wait – what? I hadn't over taken them or even seen them in the last 8 miles! It turns out after they crossed the final bridge, 10 metres before the finish line, they hadn't actually spotted where the finish was, and so they headed off in the wrong direction! James took pity on them though and gave them a 3:59pm finish. I was just amazed that I'd made up so much time in the final 10km and was so close behind them.
That made me the 7th finisher! Not only that, but because I got lucky on the final stretch, nobody who started after me finished before me. For my first ultra, I'm considering that a massive win!
John finished soon after, and together with Graeme and Helen we made use of Box End Park's lake and waded in for an ice bath. Not often you get one of those included in a £15 race entry fee!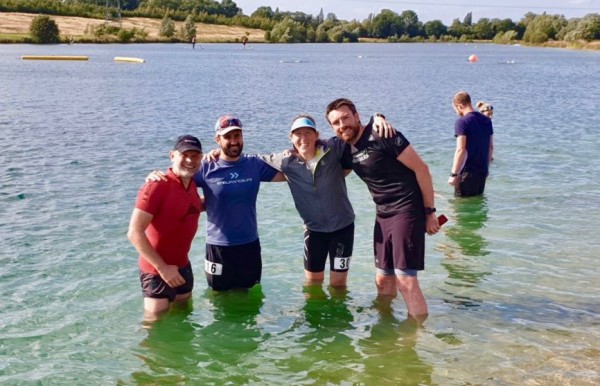 In retrospect, had I taken parkrun at a more leisurely pace (or, heaven forbid, skipped it for a week to save myself for the ultra), I would have got in slightly ahead of the 4pm target, but who cares? I'd completed my first ultra! All that was left was for me to sit down with a pint and wait for Chloë, Jason, Georgie and Cori to finish.
Will I do another Ultra?
The first half of it I really enjoyed. Running through the countryside, chatting to people, and feeling like I was pushing my boundaries felt brilliant. The middle section reminded me what it was like to not enjoy running. I was just doing it because I needed to get to the end, not because it's what I wanted to be doing. And the end? Well, as chuffed as I was to finish, the words 'never again' came all too easily. I'm writing this 2 days after the race, and I still don't have a good answer to the question.
Am I glad I did it though? Even for just the bragging rights alone, F**k yes.