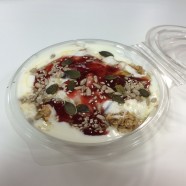 Jan

07
Tags
Related Posts
Share This
The New Bacon Sarnie
If running has taught me anything, it's that I shouldn't be running, and so training ahead of the London Marathon is clearly counter-intuitive. And given all running gives me is pain, I need to rely on fitness to see me through the 26.2 miles in 4 months time. Fitness, agility, and being light of foot in general.
Bugger.
In the last 2 months I've put on 6kg. For those of you who work in imperial, that's about a ton.
I first properly noticed this on New Year's Day when I did the parkrun New Year's Double. It started with a 9am parkrun at Bushy Park, where I ran nearly 2 minutes slower than the year before (when I was unfit). I nearly broke my Personal Worst record of 26:18 for the 5k. Then, at 10am I ran Kingston parkrun, where I ran nearly 2 minutes slower than last year, officially smashing my 5k Personal Worst record with a 27:08.
So, there's nothing else for it. The training starts here. Well, it started a couple of days ago actually. And just like the Chester Marathon training schedule, it doesn't really include much running. The plan is:
5km parkrun every week to see how my fitness is improving
The 150/365 plank challenge. 150 seconds of the plank every day for the year to build up core strength.
3 Cross Trainer sessions a week
Ditching the sausage/bacon sarnies for breakfast (unless I really want one)
And *possibly* experiment with a longer run once or twice before Marathon day using run/walk (e.g. a half marathon). This last point though is only if I suddenly find myself in the peak of physical fitness and able to tackle it.
So that's it. A winning plan if ever I heard it. I'm going to make no predictions about times for London at this stage – for Chester I just wanted to get half way, and somehow I finished it, so I know it's possible.
This year as before I'll be raising money for Beat Bullying, so please do give generously for the pain I will suffer turning down the offer of a bacon sarnie in the morning.